Edel - Fitted Putters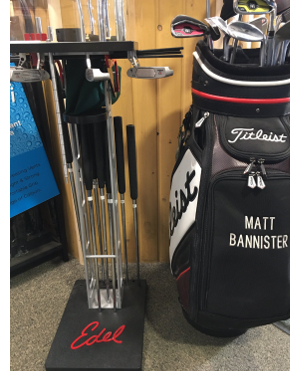 Something rather different has arrived at Stevenage Golf and Conference Centre. Edel putter fitting and custom putters.
Edel have been growing in popularity in the States for a couple of years now and are probably best known for being the manufacturer of Bryson DeChambeau's single length irons before he switched to Cobra. He is still using one of the Edel putters though.
They come in three head shapes and three head finishes. The lie angle, loft, head weight, length, counter balance, opti vibe, alignment lines, logo colour, and initials are all custom fitted. Not only that, but your putter will be made and come direct from the Texas factory in the States.
We are one of only 9 fitters currently in the UK and are really excited to have the opportunity to fit and sell these fantastic putters. For information contact us here.
I actually have one coming myself and considering I have been having my golf clubs custom fitted for the last 15 years, this is the first time I have had a putter custom fitted.
The fitting process is incredible and Declan and I will be having a clinic to demonstrate the fitting process soon.
There will be limited space to this clinic and will be on a first-come first-served basis.
The date will be released soon but to register your interest please get in touch.